Back to Back Duffer Summer Events
June 25th we had our annual Duffer Picnic. The following day, 20 Duffers and friends witnessed the pitching Match up of the century at White Sox Park.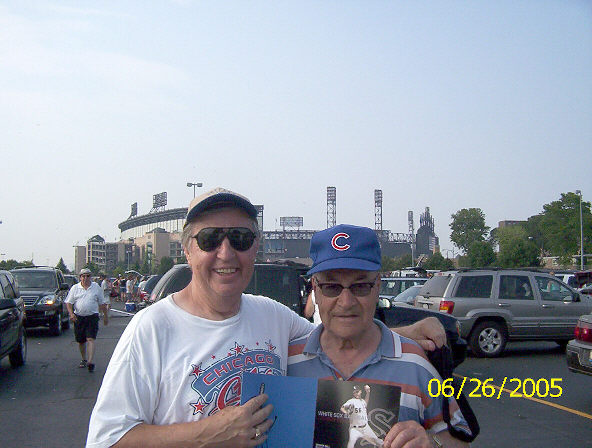 Everyone had a great time, but the Cub fans had the bigger smiles after the game.
The Cubs fans in the sellout crowd of 39,143 can celebrate Mark Prior's return.
Where else can you get this high for $28.00? We Were Higher Than the Foul Pole!
| | |
| --- | --- |
| Mark Prior (Above) out dueled John Garland (right) and picked up the 2-0 shut out win. | |
| | |
| Corey Paterson stole a base and hit a home run to pick up the game winning hit. The Cubs took the series thanks to Aramis Ramirez, right, He is congratulated by teammates Todd Walker, left, and Corey Patterson(20) after hitting a grand slam off Chicago White Sox starting pitcher Jose Contreras in the first inning at U.S. Cellular Field, Saturday, June 25, 2005 in Chicago. | |
| | |
Starter allows one hit through six; Patterson homers
By Carrie Muskat / MLB.com
CHICAGO -- Mark Prior's right elbow is just fine, thank you.
Pitching for the first time since May 27, Prior held the Chicago White Sox to one hit over six scoreless innings Sunday to outduel Jon Garland and lift the Chicago Cubs to a 2-0 victory. The crosstown showdown ended in a 3-3 tie. Bragging rights will have to wait.
"He threw a great game and minimized his pitches," Cubs manager Dusty Baker said of Prior. "He gave us all he had. He surpassed anything we could've expected against a very tough White Sox lineup. We're very pleased with the way he pitched."
Tough? The White Sox boast the best record in baseball, and the Cubs are just the second team to win a series at U.S. Cellular Field. The Cubs fans in the sellout crowd of 39,143 can celebrate that.
Corey Patterson smacked his 11th home run to back Prior (5-1), who was making his first start since he was felled by a line drive off his right elbow. He tuned up for his return by pitching simulated games rather than making any Minor League rehab starts.
"Mark says he's ready to be back," Baker said. "One thing about Mark is Mark knows himself. He's a smart young man. Mark would not go out there if he didn't think he was ready.
"[The timing of his comeback] has nothing to do with the White Sox, zero," Baker said of the crosstown rivalry. "He says it's the best he's felt in a long period of time. He's not going to go out and be a hero."
"I've been pitching for 15 years," Prior said. "Most athletes know. They have a gut feeling if they're ready or not ready. After the first sim game, I didn't feel ready and the second one I did. They told me I was going out there for six innings or 85 pitches, whichever came first."
Prior apparently knows what he's doing. He retired the first eight batters he faced before Pablo Ozuna's single with two outs in the third. Ozuna did advance to second on a balk call against Prior but that was it. Scott Podsednik grounded out to end the inning.
Cubs catcher Henry Blanco was surprised.
"To be honest with you, yeah," Blanco said. "He's been out a long time. I think they were more worried that he was healthy. The stuff is going to be there. They were worried if his elbow was fine, if his elbow was 100 percent. He showed he was 200 percent."
"You didn't expect him to be as All-Star-ish as he was today, coming out his first start and he was," Cubs second baseman Todd Walker said. "That was incredible to watch. In those situations, you hate to see him leave early."
This was the third head-to-head meeting between Prior, who was the Cubs' No. 1 pick in 2001, and Jon Garland, who was the team's first pick in 1997, then traded to the White Sox in 1998. Prior improved to 2-0 in those showdowns. Garland now is 1-2.
"I probably had more adrenaline just from the fact I haven't pitched in a month," Prior said. "You get the nerves a little bit and anxiety."
Mark Prior / P

Born: 09/07/80
Height: 6'5"
Weight: 230 lbs
Bats: R / Throws: R

Prior threw 71 pitches, 50 for strikes, and struck out three, including Frank Thomas and Paul Konerko back-to-back to end the fourth.
"Henry called a 3-1 curve to Thomas and Konerko and I think that set it up how both at-bats ended," Prior said. "They obviously didn't know what to expect. I didn't know what to expect. I just trust Henry."
Said Blanco: "I don't want them to sit on the fastball. You've got to respect their hitters. Mix it up a little bit, and it worked out great."
Jerome Williams, who will likely be slotted back into the rotation as the fifth man, pitched two innings in relief, and Ryan Dempster pitched the ninth for his 11th straight save.
"What I'm most proud of is that [the White Sox] played their game the first game, moving guys over, getting guys in on sac flies, getting some homers," Walker said. "Over the last couple days we turned it around on them. We were able to execute some hit-and-runs. I think as a whole, we did the little things good. That's why they win so many games. They do those things on a daily basis. We were able to do it the last couple days and that's why we won."
Garland (12-3), who leads the American League in wins, retired the first 10 batters he faced before Neifi Perez singled with one out in the fourth.
Patterson connected with one out in the sixth, hitting an 0-2 pitch from Garland over the right-field fence. All 11 of his home runs have been solo shots.
"It starts with baby steps and hopefully you can make giant steps soon," Baker said of Patterson, who is 3-for-22 in his last five games. "Hopefully this is the start of good things."
The young Cubs center fielder just shrugs off the bad vibes.
"There are some good fans out there," said Patterson, who has been booed at Wrigley Field and heard a few catcalls on the South Side. "There are some who are pulling for me from the first inning to the last, and I appreciate it, I really do. The negative in this game, you have to block out and go from there. Keep it simple, get your work in."
Jeromy Burnitz gave the Cubs a much needed insurance run in the seventh. He reached on a fielding error by first baseman Konerko, stole second, advanced to third on a wild pitch and scored on Walker's sacrifice fly.
For the game, Garland gave up four hits, walked one and struck out five over 7 1/3 innings. Despite losing the series at home, the White Sox have a 25-23 lead in the series overall. Now, the Cubs can focus on National League play. They'll get another boost when Kerry Wood returns Wednesday.
"Our guys are capable," Burnitz said. "We know Prior is capable, we know Wood is capable. We need them to participate. We've been saying that since the beginning."
Carrie Muskat is a reporter for MLB.com. This story was not subject to the approval of Major League Baseball or its clubs.