Welcome to Page 2
Click on the Thumbnails to see the full size picture, then use the back button to return to this page. Many of the links on this page have been knocked out by a hacker.

DUFFER NEWS
Visit the Old Duffer Web Page at:http://www.geocities.com/glopatka/dufferhome.html
July 2, 2000 Reporters Cammi Granato *** Rich Storm

Cammi's Golden Dreams Celebrity Charity Game!
Saturday July 1 at the Edge Ice Rink in Bensenville, IL.
The pictures from the Cammi Granato Golden Dreams Charity Celebrity Game are located below. You may copy and use these pictures to spread the word about the wonderful work that is being done by the Granato family. I only ask that you let me know where they are being used so I can add them to my Cammi scrap book.

| | |
| --- | --- |
| Tony's son hear some locker room stories. | Cammi and her brother Tony. |
| | |
| --- | --- |
| Two former Black Hawk enforcers, Reggie Flemming and Keith Magnason. | Wisconsin Badger Kevin Granato. |
| | |
| --- | --- |
| Reporters had a busy day, interviewing players and Hollywood Stars. Here is Mark-Paul Glosselaar. | Cammi has a word with Bad boy Magnason after running her dad. |
| | |
| --- | --- |
| Cammi makes him pay, as she circles the net. | Then puts in a 3 point back hander. |
| | |
| --- | --- |
| The game ended with an overtime goal by O'Callahan. | Players are ready to shower and sign autographs. |
| | |
| --- | --- |
| Sarah Tueting was outstand in the nets as the Hawk alumni showed no mercy. Here she gets some advice from San Jose Goalie, Steve Shields. | Everybody had a great time and the winners were the kids that will benefit from the Ronald McDonald Children's Hospital of Loyola |
Former Hawk Star Grant Mulvey with Gold Medal winners.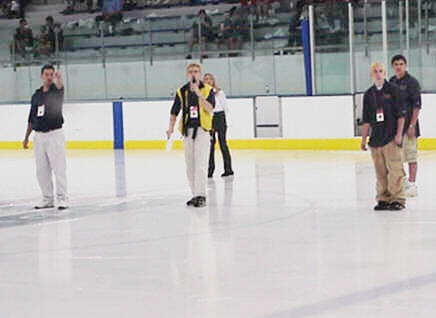 Joey Granato (Center) and his big sister Christina get to share a rare soptlight during the auction. They were hard workers behind the sceens with their Mom and Dad.
Troy Murray signs autographs after the game.
Hollywood star Mark Mark DeCarlo poses with Beak's Grandson Mike Lopatka
| | |
| --- | --- |
| Jeff Lopatka got to pose with his grandpa's Black Hawk herros, Cliff Koroll and Keith Magnason. | Former Black Hawk bad boy, Reggie Flemming, poses with Jeff. |
| | |
| --- | --- |
| Keith Magnason shows Downers South high school hockey player Jeff Lopez some hockey tricks. | Boston Red Sox star, Nomar Garciaparra, came over and signed autographs, after his game with the White Sox. |
| | |
| --- | --- |
| Cammi Thanks Nomar for coming over. | Nomar poses with another volunteer, Terry O'Kieef. |
| | |
| --- | --- |
| Johnny Z and wife cheryl take a well deserved break after working all day. | Ericka Zagorski gets the hardest worker award. She put up decorations on Friday morning, then picked up players at O'Hare until 7:00 pm. |
| | |
| --- | --- |
| 6 year old Frankie found a way to flatten a rolled up poster. All you have to do is put a hand and a knee on each corner. | Downers Grove South Hockey players, Ryan, Jeff, Terrence and Mike put in 2 hard days helping out. They thanked Beak for letting them help. |
Greg "Beak" Lopatka thanks his Grandson Mike for rounding up a hardworking crew. He was proud to be a Duffer today as everyone pitched in to help Cammi and her family with this wonderful cause. Thanks to all of the duffers pictured on these pages and the following that escaped the range of his digital camera: Tommy Z, John Koss, Frank Presecky, Mrs. Beer nuts and Wendy.

Duffer Calendar
July 1 Cammi's Celebrity Game
(At the Edge Ice Rink)
July 7 Second Summer Skate
July 27 Jimmy Buffett
July 29 Jimmy Buffett
August 4 Third Summer Skate
September 9 Golf Outing $30 includes
Food, drinks and 9 holes at Waveland
I just found this picture of Tommy Z clutching his radio as Nomar talks to a couple of Granatos.


E-mail Web master Beak
greg@lopatka.net