Welcome to
This week's featured song is "Bob Robert's Society Band", a Jimmy Buffett song about the Sunshine State that took Digital Dan away from us. Dan used to keep records for us, but he moved and John Koss took over for a while.
The Internet Explorer browser is the only one that I know plays the background music.
Since there was no game last week, I dug into the Duffer archives for some scans that Frank sent me. Back in 1990, John Koss started keeping stats of the Duffer goals, assists and attendance for several years. John gave 2 points just for showing up, then he gave 1 point for each goal and 1 point for each assist. Using this scoring system, which of today's active players had the most points in 1990? Did you guess Koss and Thor? They led the team with 98 points! These old documents helped pin point some historic Duffer events. I was able to update the Duffer History Page. Digital Dan's infamous quote was, "When is it, I can't make it!"
In 1991, Ken Lopatka took the honors with 90, 12 ahead of Koss who had 78. I marvel at how John was able to keep track of goals and assists for every game. 2008-2009 Stats page
In 1980, we had Red and Blue jerseys when the first Thanksgiving game took place. It looks like Wally stacked the red team with young guns, while giving the Blues all of the 40 year olds. The Blues were blown out 12-3. We weren't sure of this date until we found this document that was made with a #2 pencil.
On August 22, 1981, we had our 5th annual picnic at Argonne Woods, when we gave out the MVP Award. We weren't sure of this date until we found this document. I forgot that we had a Duffer Hall of Fame with 2 members. When we got into our mid 40s and we stopped improving, we started giving out "Least Disimproved Awards". I can't find a record of any "winners" of that award and no one has admitted receiving one.
On April 4th, 1981, we went to Birmingham Michigan to play some hot shots. Notice there were some Healthy Scratches and No Shows.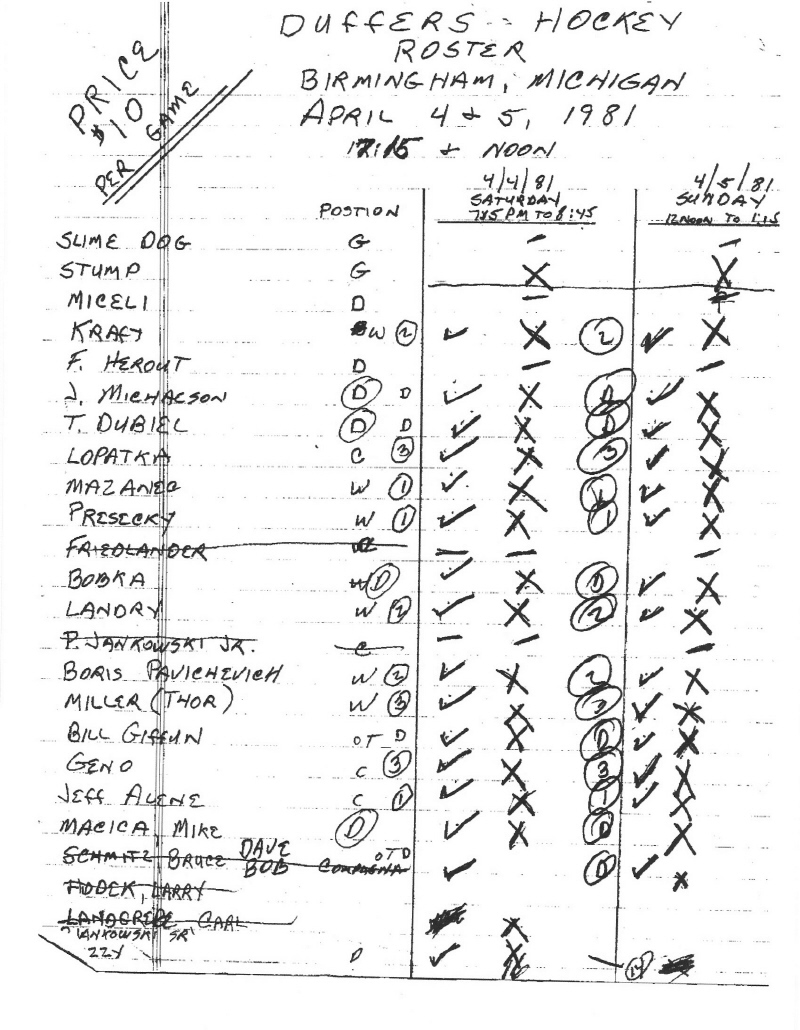 On November 28, 2003, we went to Peoria. Here are some cartoons from that trip.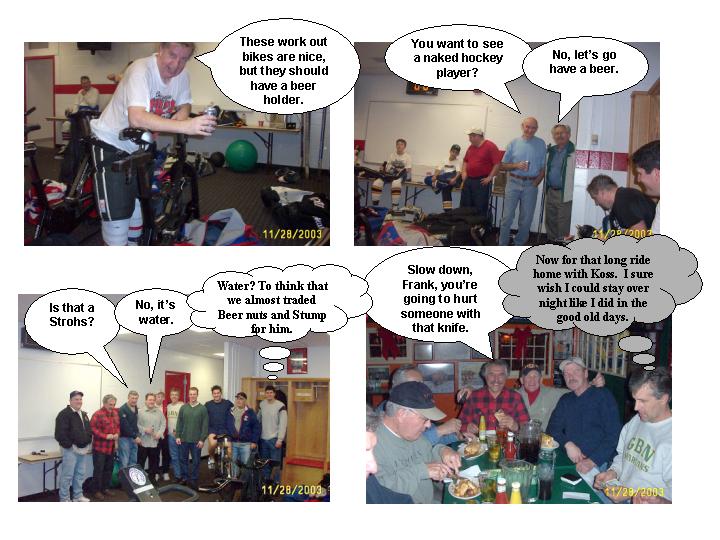 11/21/85 The Duffers Dazzle in the Reno Gamblers Cup. (See Picture) The trip got off to a rough start, when the team arrived for the Friday flight, we found out our plane left 24 hours ago. The King had to do some masterful negotiating to trade our worthless Thursday tickets for valid Friday tickets. Slime Dog and Thor were at the far end of concourse A when they should have been in the far end of concourse B! They got a page and did an OJ Simpson run through the airport and just beat the closing door at take off. Beak quieted a berserk preschooler on the plane by taking the screaming kid to the back of the plane to party with Trixy and the Duffers. The mother of the child was so thankful, she gave Beak her address and phone number so that he could send her a picture of her son in a Duffer Jersey. Skip was very impressed. Beak and his wife got the Royal treatment in Las Vegas at the Desert Inn from the lady's husband a few years later. The Commander got hot when he is accused of gassing the plane on the ride home. Beak just smiled innocently. The Duffers were awarded the Fair Play Award and Stump won the Silver Medal. Can you name the 2 names that were too long to fit on the trophy? Fair Play Award
Reno, Nevada 1985 Gambler's Cup