Holy Trinity Class of 1957
Reunion Web Site
The Holy Trinity High School of Chicago Illinois had their 50 year reunion on Sunday, September 23rd, 2007 at the Rosewood Restaurant.
Larry Kochan, Joe Szalkiewicz, Frank Czarnik and Ron Sowizrol did a wonderful job in planning this memorable event. Thanks to Rob Bergman, who gave us a very entertaining video presentation.
For more information, contact Larry at: lkochan@sbcglobal.net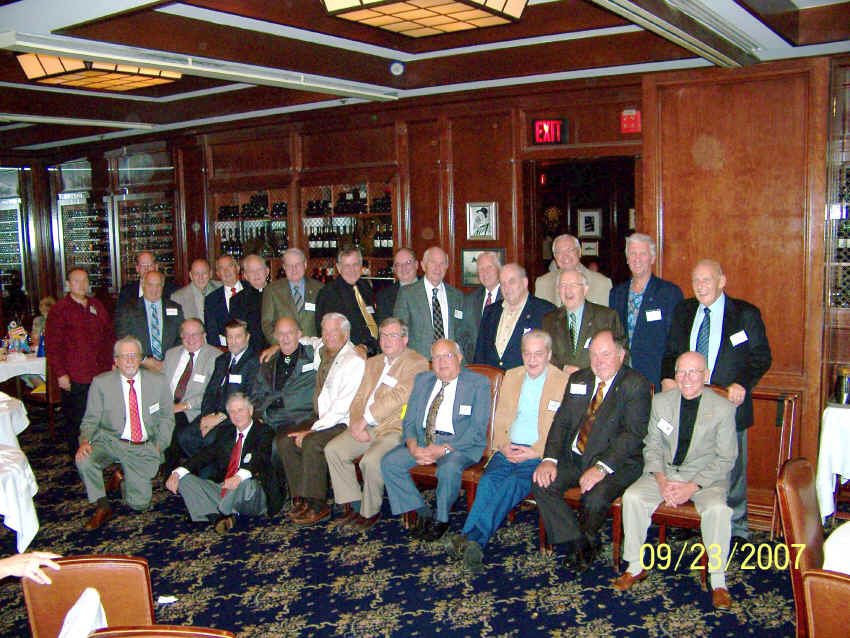 Larry Kochan was out paying the bill when I took the above picture, so I used Photoshop to insert him below.
The pictures that you see below are linked to 6 mega pixel pictures, click on the image to see the full image. Use your back button to return to this page. To print the picture, right click the large image and save it to a disk that you can take to Walgreen or Osco.
| | | |
| --- | --- | --- |
| Mr. and Mrs. Norb Kriss | Mr. and Mrs. Jim Walsh | Dave Baloun and Tom Mach |
| Anthony Citera | Mr. and Mrs. Wayne Sieck | Sam Muscarello and Melvin Knick |
| Melvin Knick and Chet Kowalkowski | Mr. and Mrs. Jerome Urbaszewski | Mr. and Mrs. Gene Koziol |
| Lauretta Koszela and Larry Kochan | Dan Podpora and Lauretta Koszela | Tim Bopp and Len Tabor |
| Joe "Socko"Szalkiewicz | Mr. and Mrs. Ed May | Mr. and Mrs. Tom Kusek |
| Mr. and Mrs. Ron Sowizrol | Greg Owcarcz | Mr. and Mrs. Ron Topszewski |
| Joanne Evansky and Carol Steck | Paul Evansky | Mr. and Mrs. Ron Miller |
| Mr. and Mrs. Ted Wojdyla | Mr. and Mrs. Ray Werich | Joe Broda |
| Ray Werich and Charlie Szydlowski | Father Richard Mackiewicz | Mr and Mrs Chester Lis "58 |
| | | |
| | | |
| | | |
| | | |
| | | |
| | | |
| | | |
| | | |
| | | |
| | | |
| Wine anyone? | Princess Grace and other meories | 57 Chevy Centerpieces by Patti Czarnik |